Breastfeeding is one of the healthiest things you can do for your baby. Any amount of time is beneficial! Milk supply can drop for any number of reasons. And when it does, it's stressful. Eating foods and practicing lifestyle habits that increase milk production can be incredibly helpful. These chocolate chip lactation cookies are the silver lining in the diet of any mom who wants a little something sweet while trying to do the best she can to make sure her little one stays nourished.
Increase Milk Supply with Protein
Getting enough protein in your diet is one of the easiest ways to make sure that milk production stays strong. Lactation cookies have become a mom favorite because, well…who doesn't love a good cookie, or two, every once in a while.
These chocolate chip lactation cookies have the perfect amount of nutritious collagen protein that not only benefits your skin, digestion and joints, but milk supply, too.
All the months you spend pregnant take a toll on your body. Sure, your baby will always get what it needs from you, but you're the one who falls behind, especially when it comes to protein. In fact, a full 98% of pregnant women have below normal protein levels.
This translates to lower energy during pregnancy. During your postpartum months, much of the protein you take in goes to the repair of your body. Your body's repair will always be the priority, not maintaining milk supply – which can sometimes teeter off due to low protein. Eating enough protein is incredibly important to a breastfeeding mom for this reason.
Research suggests that new moms who don't consume an adequate amount of protein produce less breastmilk. Fortunately, protein is easy to come by and – at the very least – easy to supplement with.
Chocolate Chip Lactation Cookies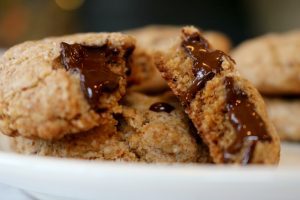 Protiva Pregnancy and Protiva New Mom are two great supplements specifically created for women who are pregnant or postpartum. They're filled with the nutrients that are a perfect complement to a prenatal vitamin, and a primary source of easy-to-digest collagen protein.
Give this recipe a try! It's dairy free and free from refined sugar and gluten.
This recipe calls for Protiva New Mom, but you can swap Protiva Pregnancy if you're still expecting. You'll get the same great benefits and added protein!
Ingredients
3/4 c arrowroot flour
1/2 c coconut flour
1 1/2 scoops Protiva New Mom
1 tsp baking soda
1/2 tsp salt
1/2 c coconut oil, melted (but not hot)
3/4 c coconut sugar
1 egg, lightly whisked, room temp
1 tsp vanilla
1 c dark chocolate chip cookies
Instructions
Preheat oven to 375 degrees.
Line two baking sheets with parchment paper, or lightly grease each sheet.
Combine coconut flour, arrowroot flour, Protiva New Mom, baking soda and salt in a large bowl until well-mixed. Set aside.
In a smaller bowl, combine coconut oil, sugar, egg, vanilla. Mix well.
Combine ingredients from small bowl to large bowl and mix well.
Finally, fold in chocolate chips.
Spoon heaping teaspoons on prepared baking sheets, spaced about 2 inches apart.
Bake 6 – 8 minutes, or until tops of the cookies start to crack and turn golden brown.
Notes
Using butter instead: If you prefer butter over coconut oil, go ahead and use it. Be sure to leave the butter soft, not melted, when you blend it in.
Using cane sugar instead: And if you don't have coconut sugar, don't sweat it! You can still use organic cane sugar instead (let's keep it natural). Date sugar is also another option.